Developing Talent Matters More Than Bottom-Line Results
By Bill Koch
Among the most valuable skills at the executive level is the ability to identify and develop talent. Getting results gets applause, but not for long if it comes at the cost of burning people out. Great leaders are known for attracting and developing the best people; inspiring them to do their best.
It's a challenge for many high potential employees who are trying to get ahead because most leaders are still performing for recognition and reward for their achievements. There's a big shift that needs to happen to become an effective executive leader.
Sue's Story: One Person, Two Profiles
Meet Sue, a superstar CFO. Sue arrived at Thoroughbred Energy, (fictitious company name), as the new CFO, nearly four years ago. She had been attracted away from her 15-year fast-climbing career with a leading beverage firm, where she had excelled and rapidly ascended more than a dozen rungs on the career ladder into the upper echelons of accounting and finance. She had been a top graduate from the #1 MBA program in Accounting. Always the smartest person in the room, she was quick to solve the most complex problems, and also quite personable and fun to be around. Sue was capable, talented, and visibly self-confident. The company saw great promise in her leadership capabilities and asked her to take on the additional role of President for one of its emerging divisions, as a test for how she might grow into a larger executive leadership role.
Late in her first year, in the dual role as corporate CFO and division President, I guided Sue through a 360-review process as her executive coach, utilizing the Leadership Circle Profile™ assessment to measure her leadership effectiveness, along with interviews of her boss, board, peers, and direct reports. The results reflected two very different personas. We'll call them "CFO Sue" and "President Sue," reflecting the two organizations she led.
The Punch
"CFO Sue" received feedback that said she was known for getting results, performing constantly at heroic levels, and succeeding beyond all expectations – a "rock star" reputation. But that came at a high cost to the people who worked on her team. They felt underappreciated and that she wouldn't allow them to shine; the spotlight was always on her. Sue heard feedback that she was excessively ambitious, overly driven, and a micromanager. She was a perfectionist who could easily find fault and often failed to recognize and appreciate the contributions of her team. She had done all the jobs of nearly everyone on her team at some point in her earlier career, and she often demonstrated that by intervening in their work. They were feeling frustrated, burned out, alienated, and lacking motivation. In short, the wheels were falling off for this team.
As I shared this feedback with Sue, it was clear that she was feeling deep pain. This is not who she wanted to be. I was grateful to have another collection of feedback to share with her in the same session.
An Alter Ego
"President Sue" was reviewed by her direct reports as being Purposeful and Visionary, with a strategic mindset. She was a Systems Thinker and a collaborator who had developed a reputation for mentoring and developing talent.
Sue was astonished and curious about this feedback. She explained to me that she had no expertise in this business. She was still learning, trying to understand the complexities and nuances of the business, and deeply engaged in working with the team to develop her expertise and business acumen in this division. She felt she had added little value because she couldn't contribute much to solving their biggest problems. And then she realized – it's not about digging deeper or being smarter or fixing things.
She was flooded with emotion as she experienced an "aha" moment. Her natural tendency was to double down on effort to dive into analysis, solve problems, fix things, and maximize financial performance. That was her default orientation.
Sue realized that she had been building relationships in this environment precisely because she didn't know very much about the numbers or the complexities of the business. People found her to be encouraging and engaging as she was asking great questions, deeply listening, and seeking to understand. She was focused on high-level strategy with a big-picture orientation about what's possible for this business. She brought contagious positive energy that inspired her team to do their best and most creative work. And she let them do it without meddling. She trusted them. That's what the "other Sue" heard in her 360° feedback on the very same day. And that's more whom Sue wanted to be.
Who is Sue today?
Sue is CFO of the enterprise and a key contributor on the executive leadership team. The firm has a stellar track record of performance with high integrity in its finance and audit functions. A solid foundation. The company is now in fast-paced growth mode. Sue was instrumental in leading a year-long strategy design that set the course for the future. The team is embarking on an aggressive growth strategy with tremendous positive momentum.
Sue invests in people. It's substantially the same team that once called her a micromanager. Today, they call her an inspirational leader.
"She invests time in mentoring and developing," one says, "She knows how to attract talent and help people shine."
In fact, Sue has become known as a "talent making machine" at Thoroughbred Energy, where people actively seek to be on her team. A few things Sue is known for doing:
Making time for 1:1 conversations with team members' about career aspirations. What do they want to try next? How do they want to expand their skills?
Mentoring in small groups on the importance of relationships. Sue recently sponsored and joined a team workshop on building trust in high-performing teams.
Sue became aware that 70 percent of learning comes from experiences and she has become a champion for finding ways for the organization to mentor and develop its next level leaders through unique projects beyond the traditional scope of their jobs.
Future focus. Sue is taking a longer-term view of talent, beyond results today. She's recruiting new hires with an eye for what kind of future leaders they might be. And she's investing in them.
Sue's story animates that technical skills get you started in your career. Proven ability to achieve results is required all along the way. These are all table stakes at the executive leadership table. Leadership skills get you farther. Since the air is thin at the top, it is one's ability to attract and develop talent that becomes one of the most distinguishing characteristics of outstanding executive leaders.
Sue is giving up her drive to show up as the smartest in the room; she sees no need to meddle. Rather, she celebrates people's growth and wants her legacy to be how she attracted and developed talent. It's a skill that serves her — and her company — very well.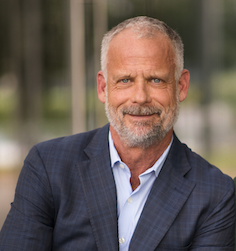 Bill Koch is a renowned executive coach known for guiding high-performers to become highly effective organizational leaders. Connect with Bill on LinkedIn or view more at kochleadership.com.