In March, Leadership Circle Chief Diversity Officer Aaronde Seckou Creighton served on the "Brand POV in a Crisis: Speak Out or Shut the F Up?" panel at SXSW 2023. We asked him how to make the most of the conference experience, and here he shares his key takeaways for future panelists and conferencegoers.
I had the opportunity to serve as a panelist for this year's South by Southwest in Austin, Texas.  For those who are unfamiliar with this event, think top-notch professional conference by day meets music/film/TV festival by night, and you have the mashup that is the international phenomenon known as SXSW.
I deliberately went a few days earlier than my session to take in the full experience of the event. There are upwards of 20-plus concurrent sessions happening across the hotels, meeting spaces, and Austin Convention Center downtown during the 10-day festival. The abundance of top-notch sessions made it hard to choose at times, but I was intentional about the types of panels, keynotes, and workshops that I wanted to attend and was fortunate to get something out of each of them.
Attending the sessions of others really allowed me to understand how I needed to show up for my own panel. You could easily observe the panelists, speakers, and facilitators who were doing their usual spiel versus those who were fully present and engaged with the unique audience in attendance. Those were the most impactful experiences and where I took the most notes. Whether it was the workshop "Re-Work: Redefining Our Relationship with Work" or catching Deepak Chopra at the Inc. magazine-sponsored house event or Heather McGee discussing research in her phenomenal book The Sum of Us, when these subject matter experts engaged directly with the audience and did not get caught in the same ol' song and dance, that is when you saw the participants get the most value out of things.
With this in mind, as well as my own experience as a panelist, here were my three learnings from five days at SXSW:
Bring your unique and authentic voice. Always.
As I write this, I am reminded of a saying my dad gave my sister and me (and it is one of about 47,623,214 sayings we had to memorize as kids, but that's a topic for another post): "No one can beat you, at being you, but you." Many times, as professionals, we show up with the perspective and voice we think others want to hear. And at times, what others want to hear is counter to our own thinking. This is where we will have #epicfails in our sessions. When you're a panelist or presenter, people are coming to hear what you have to say in a way that no one else is saying it. It's an opportunity to give your fresh "hot take" of the day. And the way you deliver the point, the examples you use to do so, when they are all yours, it's magic. So be you because no one else out there can be you better.
Prepare but know that freestyling always wins over the crowd.
I am and always have been a hip-hop head. And anyone who knows hip-hop, knows the best emcees can drop bars whenever and wherever. What some don't know is that the ability to freestyle comes from hours upon hours of practicing the craft. So do all your preparation on your topic, know the ins and outs, but when your panel or moderator goes hard left, be able to adjust and do the same. Not only does your audience appreciate your ability to do so, but you demonstrate your depth of knowledge and expertise when you make that unexpected turn.
Know your limits.
This was a big one for me. SXSW is a nonstop, 24/7 event. There is always action occurring in the streets of Austin. And for me, it was overwhelming! As an introvert, I just kept seeing people and people and more people. By the end of the second day, I was off the "four or five sessions per day" path, and on more of a "let me get to the two best on my list" way of thinking. For some, that's hard, especially if you have FOMO (fear of missing out). Fortunately, a dear friend of mine gave me a new perspective: JOMO (joy of missing out). JOMO allowed me to take in what I was supposed to hear without wondering what I missed out on.
While these are lessons learned from Austin, they can be easily applied to the everyday work environment, as well as our communities and homes. How can you engage these three lessons in your own growth and development?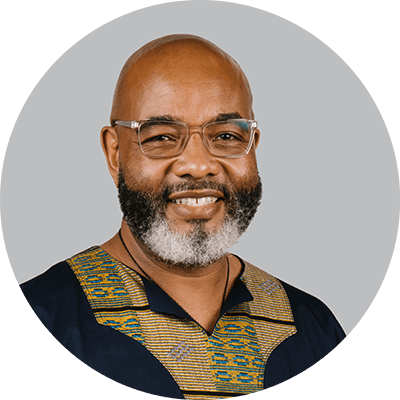 Aaronde Seckou Creighton is chief diversity officer and principal consultant for Leadership Circle. He actively leads and consults to global clients and leaders. Seckou Creighton serves as a member of the global faculty for The Leadership Circle Profile and Collective Leadership Assessment certification programs and is an ICF Professional Certified Coach.